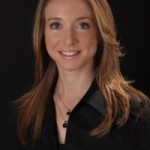 Luisa Mauro
Marathon Real Estate
Luisa@Marathon-RE.com
Luisa Mauro's Italian family instilled in her the belief that owning property is the ultimate investment. Memories of her Sicilian grandparents growing produce on their own land, coupled with a keen eye for quality real estate, motivated Luisa to obtain her real estate license in 2002. Since becoming a broker in 2006, she and her family have brought that sense of investment pride to the real estate community, buying and selling rental properties, purchasing a commercial office building and providing property management for their real estate. Since entering the world of real estate, Luisa has become deeply involved in the industry, earning her Certified Negotiation Expert designation, making her one of the few negotiation agents recognized by the National Association of Realtors. She has also earned NAR's Green Designation and is committed to the future of the real estate industry and planet. Luisa receives ongoing education about green materials, energy efficient technology, green ratings, green design, green incentives and green living. The Certified Luxury Home Marketing Specialist designation is recognized as the mark of accomplishment in luxury markets around the world; the CLHMS designation assures affluent buyers and sellers that the agents who have earned it have the knowledge, experience, competence and confidence they require. Luisa earned the CLHMS designation in 2010 and has also been awarded membership within the Million Dollar Guild® in recognition of her knowledge, experience and expertise in the luxury home arena. Members of the GUILD® are specialists whom have proven success in the million dollar and above market. In 2011, the Austin Business Journal ranked Luisa in the top 6 agents in Austin based on sales production and ranked her in the top 13 agents in Austin in 2013. The Platinum Top 50 Awards Program annually recognizes fifty residential Real Estate Professionals for their outstanding achievements in sales, education, industry participation and civic leadership. Often referred to as the most successful and well-rounded Real Estate Professionals, Platinum Top 50 Winners exemplify initiative, involvement, success, and philanthropy. Luisa was honored in 2011, 2012 and 2013 to be one of the recognized Platinum Top 50 agents. In addition, Texas Monthly magazine awarded Luisa the distinguished honor of the 2011, 2012, 2013 and 2014 FIVE STAR Real Estate award. Texas Monthly surveyed over 100,000 people asking nine questions related to customer service and the experience they had with their agents. Luisa was featured in the June 2011, 2012, 2013 and 2014 Texas Monthly issues as one of the top five percent of central Texas realtors in client satisfaction. In addition to her career, Luisa has a strong commitment to community involvement and is an active member of numerous local professional organizations. She is currently on the board of the Center for Child Protection and is helping to begin the outreach to more young professionals. Luisa is also a dedicated member of Ignite, a sub-chapter of EO, Entrepreneur's Organization. Luisa volunteers with the Austin Junior Forum, a non-profit volunteer organization supporting women, children and the elderly in the Austin area through community service and fundraising. She is currently on the board of directors and is the Vice President of the Grants Committee. With a family-owned business based in Austin, Texas, Luisa is deeply committed to the restaurant community. She is on the board of La Chaine des Rotisseurs and in 2005 was the President of the Greater Austin Restaurant Association. In her free time, you'll find Luisa either training or traveling. An avid marathon competitor, Luisa has completed eighteen marathons all over the country and participated in running circuits through Machu Picchu and Patagonia in South America. When she's not pounding the pavement, she travels to Italy to spend time with her family. Her travels always serve as a reminder that although there's no place like home, there is always the potential to find beauty in a second home.