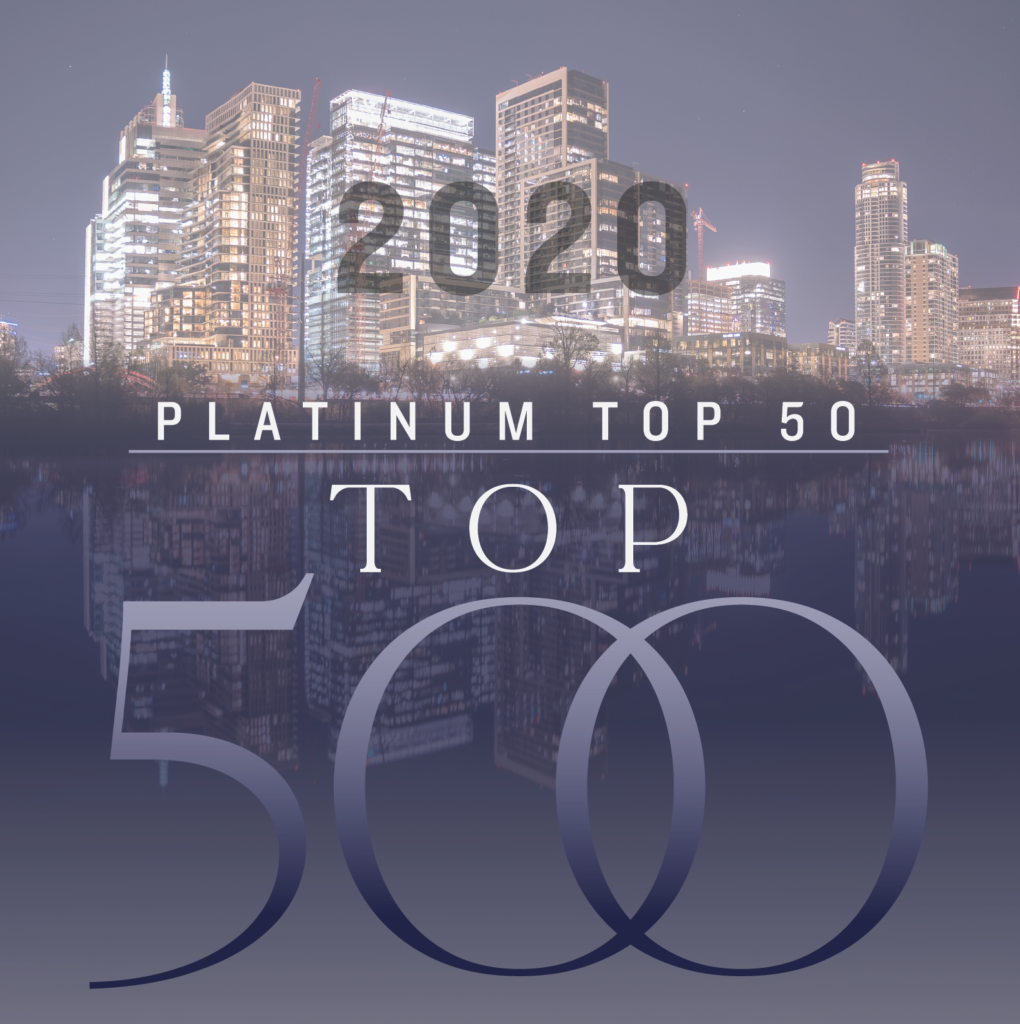 Congratulations are in order for those named to PT50's list of Top 500 Agents! Earlier this year, we asked brokers across the city to share production information for their top producing agents to earn them a coveted spot on the PT50 Top 500 list. The submitted information was then ranked and the top 500 highest producing agents for transactions between September 2019 and February 2020 are listed below.
All City Real Estate Ltd. Co
Sudhakar Karumuri
Austin Home Seekers, LLC
Chris Matthews
Austin Real Estate Experts
Berkshire Hathaway HomeServices Texas Realty
Perry Henderson
Berkshire Hathaway HomeServices Texas Realty - Georgetown
Jay Warren
Berkshire Hathaway HomeServices Texas Realty - Westlake
Kent Redding Group
BHGRE homecity
Christopher Ayala
Jim Lanier
Kirk Lewis
Lauren Szekelyhidi
Paula Lizama
Philip Myers
Vassaur Properties
Brigham Real Estate
Charlotte Brigham
Century 21 Hellmann Stribling
The Power of 4 Team
Classic Realty Of Texas, LLC
G. Michael Peccon
Coldwell Banker Realty
Belinda Huerta
Bryan Millard
Chrissy Hand
Colleen Rouhselang
Dannielle Laramee
Dawn Lanier
Dawn McKim
Diane Kennedy
Dorie Dillard
Eilleen Sabillon
Ellen Burns
Ellen Kelsey
Hanalei Myers
Jacquelyn Foreman
Katie Hart
Kim Baker-Kahle
Laura Mendez Exum
Lee Allbright
Leo Duarte
Lili Maliner
Lisa Hassel
Maranda Mobley
Mary Barr
Melissa Stout
Monika Suhnholz
Pat Vincent
Paula Greenfiled
Raul Vela
Rick Luisi
Robin Rhoads
Roselind Hejl
Roxanne Ecobedo
Sandra Alvarez
Scott Moore
Sheri Brummett
Simon Magnus
Stacey Nelson
Sue Ellett (Team Lead)
Susan Reames
Suzie Adams
Tammy Templin
Teresa Gouldie
Theresa Brown team
Tommy Cain
Compass RE Texas, LLC
Candice Dickey
Charlotte Lipscomb
Chris Tinnell
Courtney Oldham
Drew Griffin
Ellen Troxclair
Erika Levack
Guy Oberg III
Hendrix & Zulu Group
Jason Heffron
Jenny Cureton
John Dunham
Legacy Real Estate Group
Lisa Sexton and Susan Doyle
Matt Friedlander
Matt Holm
Meredith Alderson
Monica Fabbio
Paul Reddam -- Homesville Realty Group
Wendi Slaton Anderson
Dash Realty
Job Hammond
David Brodsky Properties
Brittney Heffernan
Courtney Unangst & Team
David Brodsky
Dochen Realtors
Arlene Maze
Carol Dochen
Jackie Good
Katie Dochen
Nancy Taute
Engel & Volkers - Austin Westlake
Bridgette Hager
ERA Colonial Real Estate - Georgetown
Brenda Burke
eXp Realty LLC
Christina Harmon
Elicia Michaud
Elizabeth Riley
Jill Leberknight
Keith Duble
Kinan Beck
Mary L Rodriguez
Matt Mittelstadt
Vanessa Nunez
Friedrich Realty
Molly Friedrich
HD Realty Team
Holly Dees
Hughes & Company Real Estate
Adrienne Hughes
Hughes Realty
Kyle Hughes
Intelligent Real Estate, Inc.
Anne-Marie Cancienne
JB Goodwin Realtors
Adrian Grabe
Alyssa Winkelmann
Dustin Allan
Gay Puckett
Karen McGrath
Kasen, Leslie
Latisha Darey
Mantz Team
Marissa Holmes
Steven Robertson
Zac Barger
Keller Williams Austin Northwest
1St Property Group
Andy Allen Team
Ben Love Group
Bonalife Homes
Brendan Sanford
Carmen Reese
Coco & Team
Dana Johnson
David Negrete
Dee Thomas
Doucette Properties
Dynamic Real Estate Team
E-Lit Realty
Hayer Group
Homes With Hall
Ivy Blessing Team
Jordan Ramey Team
Jose Robles
Kathy Stafford
Kauffman Team
Kiefer Group
Laurie Flood Team
Leteshia Finley
Lisa Jay
Longhorn Real Estate
Mark Sawyer
Mary Merrell
Merit Properties
Moats Team
Myles Group
Nino Brothers
OTT Group
Pamela Peck
Paramount Property Group
Real ATX Group
RESATX
Roadhouse Group
Sage Wilson
Shallue Property Group
Smart Living Team
Takao Team
Team Joe Williams
Terence McNeil
Terra 360 Group
Yiwen Chen
Young Property Group
Keller Williams Cedar Park
Aaron Hickman
Emily Dieckmann - The Emily Dieckmann Team
Gilbert Gonzalez - Home Connect 512
Janice Presnell
Jeremy Bartlett - Ana Swanson Team
Kevin Elliott - The Home Resource Group
Kristen Childers and Tammy Wise - Austin & Hill Country Real Estate Group
Sherry Payne
Tom and Marissa Radack - The Bartlett Real Estate Group
Keller Williams Georgetown
Amy Manis
Bryan Orsborn
Caitlyn Balderas
Carmen Colon
Christopher Aldridge
Diane Waters
Glenda Dubose
Harry Gibbs
Jessica Burks
Kari Christ
Kathy Armstrong
Kim Sanders
Megan Turnipseed
Michael Geortz
Nancy Moore
Nick Himes
Quinton Locklin
Rita Snyder
Russ Phillips
Suzie Gole
Terri Butt
Terri Romere
Virginia Lazenby
William Vernon
Keller Williams Realty - Lake Travis
Amber Hart
Keller Williams Round Rock
Carolina Aceituno
Frances Crossley
Jennifer Summers
Judy Copple
K.C. Whetstone
Kasey Jorgenson
Kiersty Lombar
Kim Whitlock
Lawrence Babin
Mariella Rivero
Robert Fischer
Tara Knight
Tom Walker
Kuper Sotheby's International Realty
Ashley Darnell
Ashley Pope
Betty Kuykendall
Brandy Finnessey
Bridget Ramey
Cari Clark
Carl Shurr
Carla Gerlich
Carmen Nichols
Carson Pascal
Catherine Myers
Darin Walker
Diane Dillard
Georgia Levin
Gregory Cooper
Hillary Deck
Janice Hurst
Jeanne White
Jill Rose
Joe Longton
Jon Plum
Jonathan Creath
Judith Arnold
Julie Mack
Kacy Dolce
Kim Burke
Kumara Wilcoxon
Lauren Powell
Linda Burns
Margaret Jolly
Martha StClair
Maru Violante
Matt Heytens
Melissa Meeks Killian
Patty Johns
Ron Marshall
Ryan Rogers
Sandy Cary
Shay Millheiser
Sheryl Lowe
Sonya Cunningham
Stephanie Nick
Susan Barringer
Susan Brown
Susan Griffith
Susan Ledesma
Suzanne Pringle
Tarek Morshed
KW Austin Southwest
Aitana Properties
Alex McCormick
Alexander Home Team
Amanda Ponce Team
Andrea Bibeau
Ascension Realty Team
Austin Properties Group
Ben Kinney Team - Austin
Birdhome Real Estate Consultants
Byrne Real Estate Group
Colum Malcolmson
Craig Richardson
Crystal Kilpatrick
Dalby Home Team
Dani Steece
Danny Wilson
David Bain
Debra Meyer
Desmond Milvenan
Dyron Taylor
Elisabeth Hay
Eric Copper
Esther Talley
Grimes Property Group
Gunn Real Estate Group
H Squared Real Estate Team
Hays Home Team
Heart of Austin Homes Team
Jack Tynes
James Walker Team
Jaymes Willoughby Team
Jayna Love Homes Team
Jennifer Coley Smith
Jessica Bruehl
Jewel Realty Group
Jody Faulker
John Squires
Kathie Gabriel
Kevin White
Lori Davis
Lux Haus
Lydia Smith
Mallett Integrity Team
Martha Small
Michael Scheffe
Mimi Bond
Mock Ranches Team
Nina Seely
Papasan Properties Group
Partners in Real Estate
R3 Marketing Group
Real Time Realty Group
Roman Lopez Real Estate Team
Ryan Kelly
Samantha Midler
Schmitz & Smith
Spinelli Residential Group
Swanson Realty Group
The Bara Team
The Bucher Group
The Cain Team
The Corridor Team
The Eitel Group
The Gary Steele Action Team
The Gentry Group
The Gregory Group
The Heyl Group
The Lancashire Group
The Martin Team
The McGinley Group
The Moats Team
The Plateau Land Group
The Quaid Team
The Seely Group
The Williams Team
The Williamson Group
Tomas Corzo Group
Tory Ketter
Vince Martinez
Linda Welsh Realty GRP
Linda Welsh
Luisa Mauro Real Estate
Luisa Mauro
Mallach and Company
Tina Mallach
Marathon Real Estate - Tausha
Marathon Real Estate - Tausha Carlson Group
Moreland Properties - Austin
Chad Mahagan
Pacesetter Properties
Kathy Chappell
Phillips & Associates Realty
Michelle Keller
Pure Realty
Andrew Bouffard
Andrew Crain
Carlos Cruz
Dan Forbes
Kiel Schmidt
Mack Linan
Stuart Sutton
The Cummings Team
Tim Kress
Venkat Gudapuri
RE/MAX Austin Skyline
Camille Ulmann
RE/MAX Bastrop Area
The Janis Penick Team
RE/MAX Posh Properties
Jack McDonald
Kathy De La Cruz
Lori Thomison
Mary Anne McMahon
Realty Austin
Aaron Lancaster
Aaron Nann
Adam Walker
Alexia Dauterive
Alicia Kelley
Allison Olson
Ami Davis
Amy Mills
Art Fonseca
Ashley Brinkman
Aubrey Shaw
Bailey Robb Group
Barrett Raven
Barrett Sandefur
Barron Johnson
Betsy Gallagher
Betsy Smith
Beverly M. Williams
Bob and Michaela Hachtel
Brad Brown
Brian Copland
Bryan Swafford
Burt Dement
Carlos Ojeda
Caroline Mowry
Carolyn Watts
Catalina Castellanos
Chad Mize
Charla Housson
Charles Runnels
Cheri Martz
Chuck Jenner
Ciccarelli Team
Connie Spelce
Cory Culpepper
Craig Van Engelen
Cristina Valdés
CTX Group
Cummings Home Team
Damon Brown
Daphne Quay
Darcy Newton
Deanna Garza
Debbie Barrera
Denise DeJardo
Diane Jackson
Dustin Lawless
Eberly Group
Elena Royal Howard
Ellen Outlaw
Fara Kosari
Fojtik Burke Group
Gail and Ben Team
Gigi Jacks McClaskey
Greenleaf Team
Gretchen Lynn Janzow
Guy Koret
Haval Abbas
Heather and Kelley Team
Hilary Vanstone
Hill Team
Holly McCormick
Hume Rost Group
Jackie Horton
Jackie Ogier
Jackson Valentine Group
Jéan Bruns
Jeff Sehon
Jeffrey and Gina Nyland
Jeffrey Poe
Jen Berbas
Jen Butel
Jennifer Henry
Jenny Rosas
Jenny Walker
Jeremy Fisher
Joe and Cara Keenan
Joe Schleis
John Richardson
Johnny Ronca
Jon Chambers
Jonna Juul-Hansen
Josh Lasserre
Juanita Thornton
Juli Wehmeyer
Julie Lavender
Karen Matuszewski
Kat and Kim Team
Kate Hamlin
Kathy and Winona Team
Katie Hobbs
Katie Jackson
Kelli Whirlow
Kelvin Glover
Kevin McCord
Kim Fodor
Kim Fry
Kristen Jacobs
Kyle Roberts
Laura Olesen
Lauren Bach
Lauren Pryor
Lawrence Pritchett
Lily Clason
Linda Traylor
Lisa Madden
Lisa Muñoz Team
Marcia Kasson
Mark Alexander
Mark Pearce
Matt Pariseau
Megan Malloy
Melanie McNearney
Meleah Wehman
Melissa and Amy Team
Mesa Group
Michael and Stacy Spickes
Michael Langford
Michael Rodriguez
Michael Said
MJ Moran
Mosaic Team
Nested Realty Group
Nick Easley
Open House Austin Group
Patti Simon
Penny Moulder
Peter van Kooij
Polly Clarke
Ramirez Team
Raymond and Catherine Team
Rebecca Gindele
Reese Phillips
Regina Cox
Rick Whittemore
Rob Kellogg
Rob Lane
Robie Dodson
Ross Ponder
Ruth and Evonne Team
Sal Silva
Sally Pierce
Salma Manzur
Sarabeth and Jordan Team
Sarah McAloon
Sari Pearce
Schaffer Team
Scott Joffe
Shanna Heidmann
Sharon Murray
Steve Dean
Sue Lindell
Sumina Bhatti
Summer Firth
Susan and Natalia Team
Susan deGraffenried
Susan Patterson
The A Team
TLC Team
Tony Elias
Tracie Patterson
Trevor Heuser
Tyler Duncan
Wafiq Alalawi
Wendy Jansky Serra
Yusuf Johnson
Zach Wallace
Realty Texas
Jack Stapleton
Leisa Ormsbee
Schaible Realty
Brad C. Schaible
Shepherd Nelson Realty
Shanan Shepherd & Tamara Nelson
Shepherd Nelson Realty LLC
Shanan Shepherd & Tamara Nelson
SoundCity Properties
Nancy LaBarbiera
Spyglass Realty and Investment
Chris Affinito
Isabel Affinito
Ryan Rodenbeck
Tim Behe
Taylor Real Estate
Blake Taylor
TexHomes Realty
Seth Koppel
The Boutique Real Estate
Noa Levy
The Davis Company
Dena Davis
The Leaders Realty, LLC
Kristee Leonard
Trinity Texas Realty INC
Sijo Vadakkan
Trusted Realty
Bobby Mathew
Twelve Rivers Realty
Chloe Chiang
Paul Smith
Tim Landy
Todd Burgener
Willow Real Estate
Julie Burton
Wilson & Goldrick REALTORS
Amy Rung
Cindy Goldrick
Dru Brown
Wolf Real Estate
Kimberly Wolfman
Womack Real Estate LLC
Wes & Prima Womack