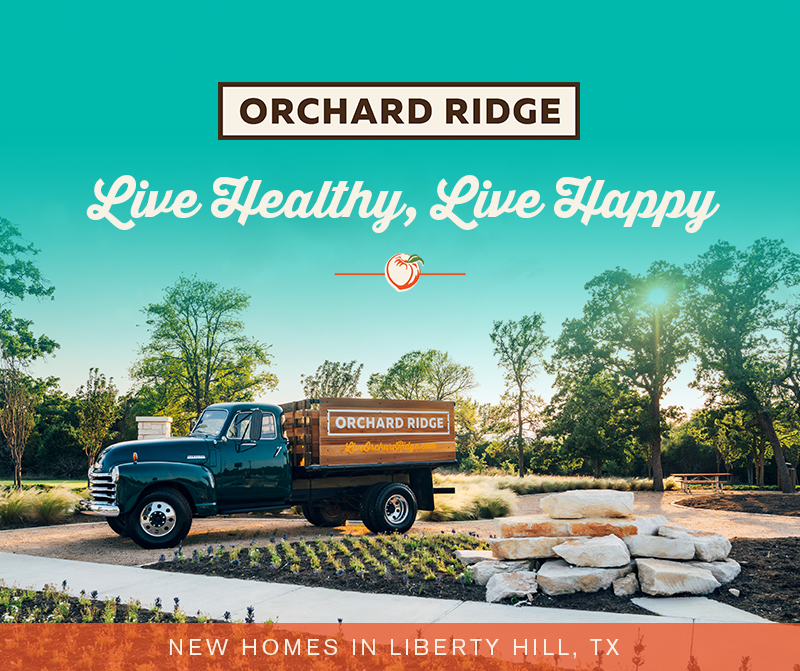 East of Liberty Hill, Texas, a stately grove of classic oaks stands at the center of Orchard Ridge, a new master-planned community in the Texas Hill Country with new homes that create a sense of place. Orchard Ridge gradually slopes into an expansive basin of seasonal creeks and ponds, creating the perfect environment to cultivate a thriving community based on fresh style, celebration of heritage and abundant activities.
Carefully-crafted architectural styles and landscape plantings line the streets of the Orchard Ridge community. Experienced, high-quality home builders, Dream Finders Homes, Buffington Homes, Lennar, and Pacesetter Homes, create a mix of floor plans tailored to a variety of lifestyles, family formations and age groups. The homes of Orchard Ridge create a compelling sense of place with abundant residential diversity.
Orchard Ridge is an amazing collection of amenities inspired by the past, with an eye toward the future. Outside of the family-friendly pool, state-of-the-art fitness center, play fields and parks, they also include community gardens and miles of trails. Using a comprehensive approach to placemaking, Orchard Ridge creates a strong foundation for environmental, community, family and individual well-being adapted for each unique setting and region.
While Orchard Ridge offers the experience of small town living, one of America's most dynamic cities is just 20 minutes away. The burgeoning city of Austin has been described as "a state of mind where cool mingles with tradition, and industriousness and idleness are equally esteemed values." Orchard Ridge is conveniently located along Austin's northern growth corridor with easy access to technology employment hubs, health-care, the outstanding Leander ISD and everyday needs.
Experience the basic principles that define "vital communities" — healthy living, connectivity, stewardship and a strong foundation for home and family. For more information visit LiveOrchardRidge.com.