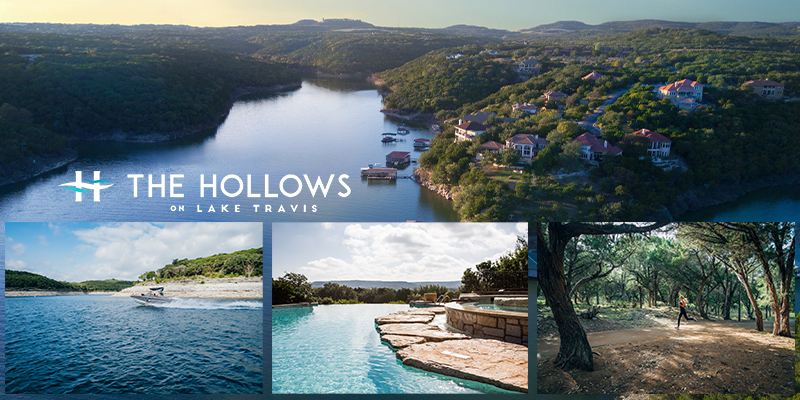 Here at The Hollows, we know how important it is to live in a place you love. That's why we've built a community where our residents can explore the wonders of nature while enjoying all of the luxuries of lake-living.
Kayaks and boating and infinity pools, oh my. Not only does life at The Hollows offer you the beauty of the hill country, but with our abundance of resort-style amenities, you'll find it hard not to live it up at the lake!
Whether you're looking to enjoy a relaxing day on the water, test your skills behind a boat, or kick back in a kayak, we've got you taken care of. Dive in and start enjoying the NorthShore Marina and head over to the Beach Club for a bite to eat and a refreshing beverage (or two) by the infinity edge pool.
Our fitness center, pickleball and basketball court, and 6+ miles of scenic nature trails will have you reaching for your tennis shoes for the first time in years.With all of our fabulous amenities and a new amenity center - the Trailhead Club - opening in summer 2021, The Hollows was made to live it up on the lake!
Our neighborhood also features some of the top builders in the great state of Texas - Coventry, Drees, and Giddens. With highlights like sleek quartz counters and pops of color, to natural wood tones and gold accents, there's something for everyone here at The Hollows.These builders are the best in the business at helping you design your home to allow you to entertain with ease from indoors to out. Ample natural light and clean architectural lines will wow you the moment you step into your new home (just trust us).
Lago Vista ISD is regarded as one of the top school districts in the state, so it's no secret we're proud to have them in our corner (literally!). Not only are they impeccable schools, but each campus in LVISD is less than 10 minutes away from The Hollows! That means it could take you longer to get out of our gorgeous, nature-filled, hill-country community than to get your kiddos to school! Lago Vista ISD's highest standards of education are reflected in their motto "Excellence in all we do", so from Pre-K to 12th grade, you can rest assured that LVISD has you covered!
Visit our website to dive deeper into why The Hollows is the perfect place to call home!